Learning to use a handsaw when I was young my Dad would tell me not to strain the tool. He would preach "let the saw do the cutting". He was right, technique was more efficient than effort but I always wondered what was in that box labelled 'Makita Circular Saw'.
The same can be said for managing invoices and overdue debtor accounts. Absolutely there's a time to use the art of relationship management or exercise discretion but for this business chore sometimes technology is simply easier, more efficient and even enjoyable.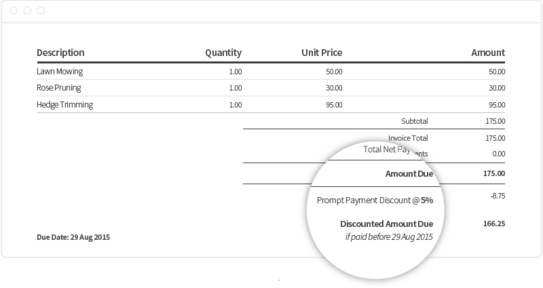 Take Promptly for example, a Xero Add-on which uses discounts to encourage customers to pay their invoices on time. Promptly makes it easy to display discounts on Xero invoices and automatically applies a credit note when they are paid early. It kicks late payments to the curb and the reconciliation is clean and easy.Then there's Debtor Daddy, a wonderfully simple Xero Add-on whose mission in life is to automatically chase your unpaid invoices. If calling in your overdue accounts is painful, awkward and time consuming then Debtor Daddy is for you. Humorous and personable in it's hunt for payments, this application is serious when it says it can reduce your debtors by up to 60% in a matter of weeks.
Lastly for those businesses that invoice regular amounts, memberships, subscriptions or monthly fees it's worth looking at Ezidebit. This online Direct Debit platform is a powerful alternative to automatic payments. It creates professional engagement with customers and puts you in charge payments.
Here are the tools, now go forth and get paid!