Going fully paperless is a real possibility with Receipt Bank – the revolutionary tool that makes processing accounts payable and credit card expenses effortless.
Receipt Bank helps to save valuable hours by scanning information from receipts and invoices and publishing them as bills in Xero.
Easily submit all your receipts and invoices by taking a photo via the mobile app,or share your unique Receipt Bank email address with your suppliers and their invoices will flow straight into your Xero account.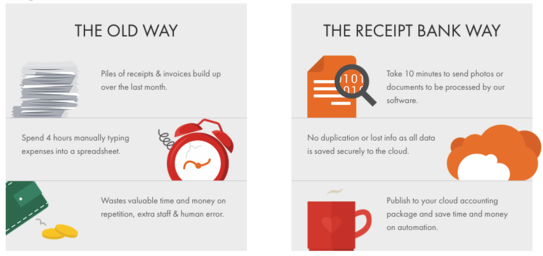 TRY RECEIPT BANK FOR FREE
We think Receipt Bank is a 'no brainer' for any business wanting to be more efficient with their bookkeeping, so we're offering to setup Receipt Bank for your business FREE OF CHARGE.
Contact us now for this exclusive free offer.
Once setup with your Xero account we'll schedule a time to quickly run you through the system so you can trial it free for 14 days.
If you want to continue with Receipt Bank after the trial ends we'll simply add it to your monthly bill. Plans start at just $30/month, find out more about Receipt Bank pricing here.
Go forth and automate!